House for sale
Holiday house with 3 completely refurbished separate apartments, 4 big cellars and one Portico for sale in Marche, central italy.

We (teacher and handcraft artist) restored this house between 1995 to 2001 and turned it into a holiday house for our friends' and our own pleasure. Eventually, there came into existence 3 apartments in different sizes.
price: 430 000 €
---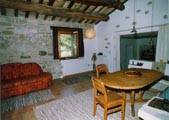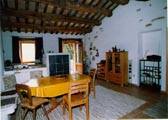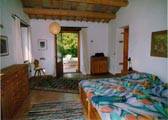 ---
However, out of health reasons we have decided to sell the whole house, which is about 350 m2 with 3500 m2 land surrounding it. The house would suit nature-loving people who can imagine earning some extra money with "bed and breakfast".

Currently there are 3 separate appartments with separate entrances and independent heating systems. The house is also registered as a three-family house. However, by simple structural changes, it could be turned into a one family house. One of the four big basement rooms is already turned into a small bathroom unit and the remaining three basements - as well as the portico - could be also extended into further comfortable apartments.

The closest neighbours (150 m) are Dutch, a married couple who have just bought a house here that needs refurbishing. 500 m further on lives another Dutch couple already for 3 years. We became good friends with the sheperd couple, Antonia and Francesco whose house is 600 m away from us, at the very end of the nearby village, San Pietro. The house is surrounded by farmland and pasture of our shepard neighbour.

Our house is approximately 6 km away from the next biggest town, called San Lorenzo in Campo, and 30 km from the sea. The house is set in a peaceful area, it is completely undisturbed by street noise, whatsoever. It has a beautiful view on the hilly landscape of the Marche and on the Appennines.